Blog
We like to keep our patients informed about dental issues that can effect your day to day life. Have a read of our recent blogs and find the answers to many of your dental related questions.
8 June 2018
Dental Veneers at Seapoint Clinic
Veneers Explained
Dental veneers can help drastically improve the appearance, colour, size and shape of your teeth. Made using a very fine layer of either porcelain or composite material, veneers are bonded over your own natural tooth to help improve its overall aesthetics as well as protect the damaged surface of the tooth. We can craft your veneer to the exact size and colour you want, meaning they look just like natural teeth.
Veneers are becoming increasingly common in Ireland, as dental technology continues to advance it means it's never been more affordable, safer or quicker than ever before to get the smile you want. But not many people realise the difference between Da Vinci (porcelain) Veneers and Instant Veneers (composite)....
Instant veneers are a hugely popular treatment that allows patients to change and improve their smile in just one visit!

Dr. Marie Sanfey, Seapoint Clinic

Instant Veneers
Instant Veneers
Instant Veneers are less expensive than their porcelain counterpart. Whereas porcelain veneers are made in a dental lab, adding expense to their design and production, Instant Veneers are performed by the dentist and are completed in one, straightforward visit. In some cases, patients may only need 2-4 veneers, whereas others may require more. Our cosmetic dentists specialise in handcrafting veneers, meaning you can get the smile you've always wanted at a fraction of the cost.
Treatment involves coming into us for a quick consultation, where you may be asked to complete a short whitening treatment before coming back to have your Instant Veneers placed. That's it! No preparation of the teeth, no drilling, no fuss!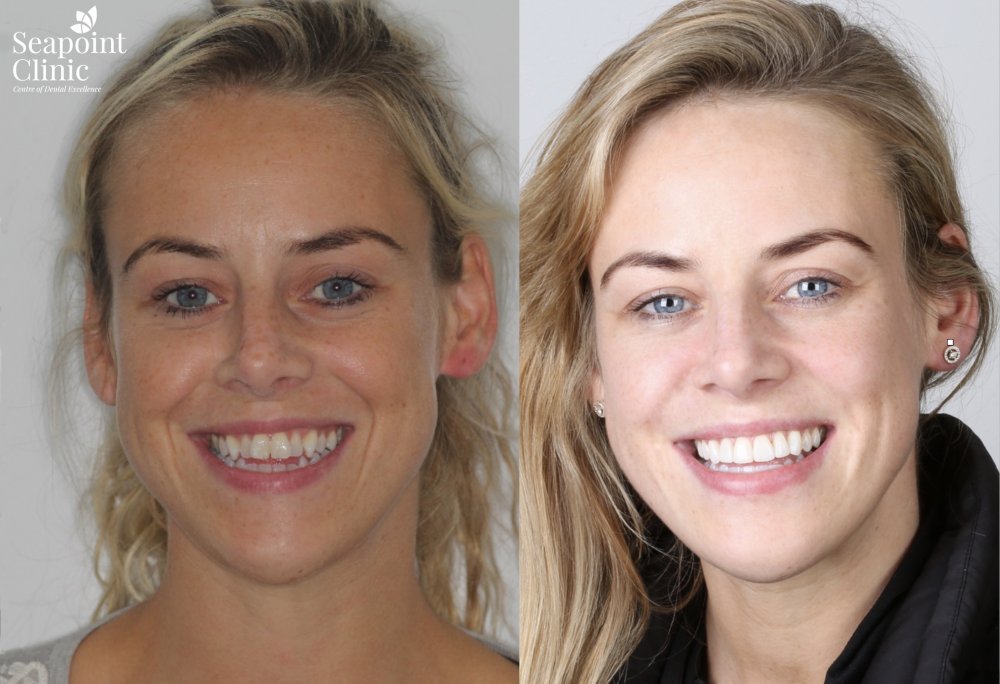 I am showing them off to everyone and they are super impressed with the results!

Orna, Tyrrellstown

Instant Veneers
Da Vinci Veneers
At Seapoint Clinic, we only use the finest of materials in all our veneers. Unlike Instant Veneers, our porcelain veneers are handcrafted in California by cosmetic ceramic technicians in Da Vinci Studios. By combing art and science, they are able to produce beautiful life-like veneers and we have provided veneers for some of Ireland's best known faces.
Before treatment begins, we will arrange a smile simulation session in our Digital Smile Design studio to show you just what your new smile will look like before treatment even begins! By doing so, we are able to modify and alter your new smile until you are 100% happy with it before sending it to California to be converted into porcelain. From there, we bond the veneers into place on your natural tooth.
Back to Blog