Blog
We like to keep our patients informed about dental issues that can effect your day to day life. Have a read of our recent blogs and find the answers to many of your dental related questions.
5 March 2018
Instant Veneers Explained
Instant veneers, otherwise known as composite veneers, are the latest thing in cosmetic treatment. However, many people aren't aware of what the treatment involves. Quite often we find that people are put off by potentially getting veneers due to small amount of drilling necessary. The great thing about instant veneers at Seapoint Clinic is that they require no drilling whatsoever! This means we make no alterations to the structure of your natural tooth and can still give you the smile you've always wanted, but what does treatment involve?
I'd highly recommend the treatment and the clinic, the atmosphere is fantastic, and I'd highly recommend Dr Sanfey.

Sharon Byrnes, Wexford

Instant Veneers
Can Anyone Get Instant Veneers?
If you have some mild discolouration, alignment issues or chips you could be suitable for Instant Veneers. During your initial visit to Seapoint Clinic, Dr. Marie Sanfey will assess your teeth using HD photography. By doing so, we are able to recommend the ideal treatment for you - from Instant Veneers, Six Month Braces or Invisalign. There's always a treatment to best suit your specific needs.
How Are Instant Veneers Made?
We first choose a shade best matched to your own natural tooth colour and apply a thin layer of dental composite material to the outer surface of the tooth. Once the bonding has been gently applied, we then polish it to match the texture of your own natural teeth surrounding it. It really is as simple as that!
"Instant veneers is a great treatment because it can be done in just one visit. There's no drilling of your natural teeth, no need for numbing and it gives really lovely results.

Dr. Marie Sanfey, Seapoint Clinic

Instant Veneers
How Do I Take Care Of My Instant Veneers?
Looking after your new Instant Veneers is no different than looking after your own natural teeth - with regular brushing, flossing and routine visits to your dentist and hygienist.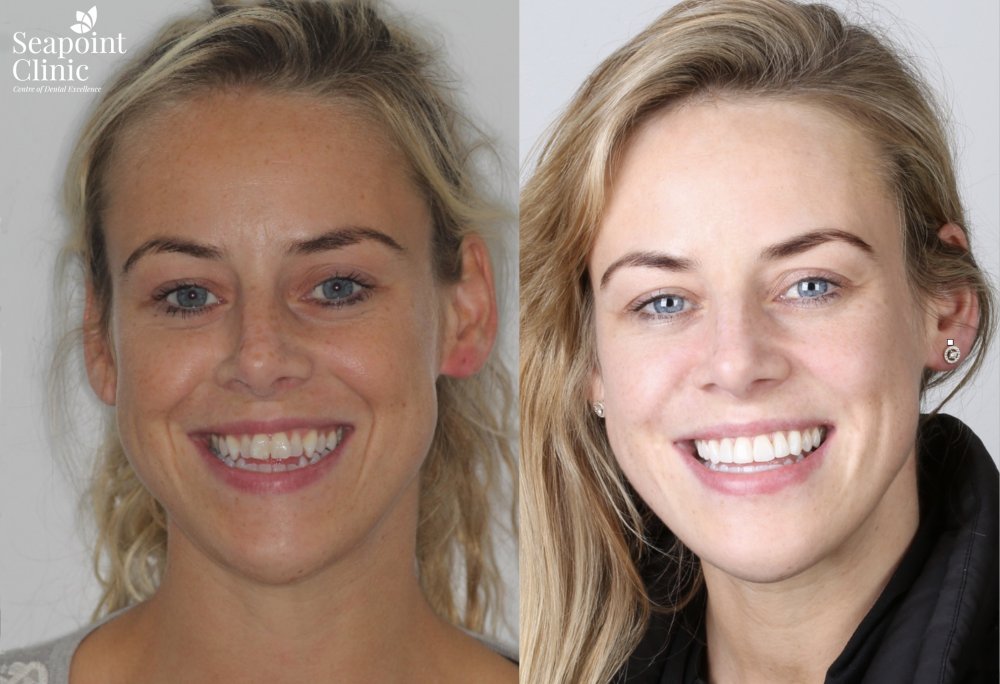 I never thought my teeth could look this nice! All of my friends and family have commented on how beautiful they look.

Orna Tiernan, Dublin

Instant Veneers
What Is The Overall Cost?
Instant Veneers are less expensive than porcelain veneers, as porcelain veneers are made in a dental laboratory, which adds expense in its completion. The benefit of Instant Veneers is that everything is done as you sit in the dentists chair, in one straightforward sitting. The amount of veneers you need does vary person to person, with some needing only 2 and others possibly needing more. As Dr Marie Sanfey customises each composite veneer to best suit each patient, an initial consultation is required in order to assess the full cost. Once this is completed, you will have the exact cost of your treatment explained to you.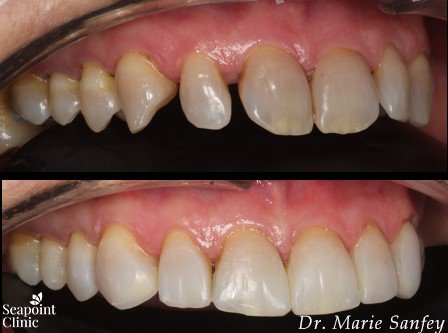 Back to Blog